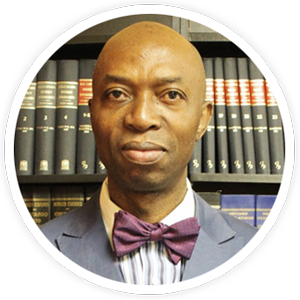 KINGSLEY JESUOROBO
Founder, Principal and Managing Partner
Our Principal Counsel, Kingsley Jesuorobo, is a lawyer in Nigeria (1990) and Ontario, Canada (1996). He is a Notary Public in the Province of Ontario, Canada. He studied law at the University of Benin, Nigeria and the University of Toronto, Canada. He was pupilled by Chief C.O. Ihensekhien (S.A.N.) in Nigeria and the law firm of Michael Waud in Canada. Mr. Jesuorobo is a founding partner of JED Solicitors, an international law firm which operates from Canada and Nigeria.
Mr. Jesuorobo has successfully handled thousands of cases. In one year alone, he won 154 out of the 185 cases he argued before Canada's Immigration and Refugee Board. His cases have been cited in major scholarly works. In 2005, he was a guest lecturer on Immigration and Refugee Law practice at York University, Toronto, Canada.
In 2010, he was a guest lecturer on Refugee Protection and Human Rights Law at Kellogg College, University of Oxford, United Kingdom under the sponsorship of the United Nations High Commissioner for Refugees (UNHCR) and the Fahamu Refugee Program. In 2011, he organized a training program in Toronto for over a dozen judges of Federal High Court of Nigeria. In 2017, he presented a paper (viewable here) on human rights law at the African Bar Association Conference in Port-Harcourt, Nigeria.
Mr. Jesuorobo's outstanding professional achievements have earned him several awards and global acclaim, including, but not limited to, an Award of Excellence by Nigerian Bar Association (Benin Branch), the Planet Africa Television Award for Professional Excellence and an award by the Nigerian Canadian Association for his outstanding contribution to the Nigerian-Canadian community. In 2010, he was featured as one of the ten most influential Nigerians in Canada by the Planet Africa Magazine. In April 2017, he was featured as Thisday (Nigerian Newspaper) Legal Personality.
Mr. Jesuorobo is a leader of several law associations including being the President of the Canadian Association of Nigerian Lawyers and the Vice President of the African Bar Association (North America).
Among sundry leadership accomplishments outside the legal profession, Mr. Jesuorobo co-founded Canada's premier black television network, FEVA TV, and chaired the Board of Canada-Nigeria Chamber of Commerce. He has also acted as the chair of the Board of Directors of Democratic Alliance For Nigerians in Canada.
Mr. Jesuorobo metaphorically labels himself as "a lawyer by day, a poet by night and several other things in between". He is a published author of a book of poetry. His maiden book, titled: Province of Poetry: A collection of poems and philosophical phrases ("PoP"), was released in September, 2017. Within months of its publication, his book rose to become the number one bestseller in the category of logic and language on amazon.ca. Hard copies of the book are available for purchase at www.provinceofpoetry.com. An impressive collection of videos of some of his poems are available for free to subscribers to his YouTube channel: https://www.youtube.com/c/KingsleyJesuorobo
JEROME OLORUNPOMI
Associate Counsel
Mr. Olorunpomi is a lawyer in Nigeria (1993) and Ontario, Canada (2011). He studied law at Ahmadu Bello University Zaria, Nigeria. He practiced in Nigeria for over 13 years with bias in Land/Property Law, Corporate/Commercial Law and Family Law.
His sound academic background, skills and experience, including his tutelage under Mr. Jesuorobo, have enabled him to successfully represent numerous clients.
HON. ABDUL-RAHMAN KADIRI
Counsel
Honourable Abdul-Rahman Kadiri holds Masters and Bachelor degrees in Law. He is a Barrister, Solicitor and Notary Public of the Law Society of Ontario, Canada. He is also qualified as a Lawyer in Nigeria (1984). He is a member of the Chartered Institute of Arbitrators, London, U.K.
After he was called to the Bar in Nigeria, Hon. Kadiri practiced law extensively as a general practitioner. He first practiced as head of chambers of the law firm of Major-General (RTD) Ibrahim Haruna & Co before he set up his own private firm in 1993.
In 2005, Hon. Kadiri expanded the frontiers of his work outside Nigeria to Dubai, United Arab Emirates where he handled arbitration, property and real estate matters. Among other activities, he acted as Sole Arbitrator for the Dubai International Arbitration Center and presided over many arbitration tribunals.
Hon. Kadiri has represented multi-national corporations and engaged in many cross border transactions involving countries such as Nigeria, Dubai (UAE), China, USA and United Kingdom.
Beyond the business of law, Hon. Kadiri has participated in governance as an elected member of the Federal House of Representatives (National Assembly) of Nigeria from 1991 to 1993. He served in several legislative committees of the House before returning to full active practice in 1994. As a Federal Legislator, Hon Kadiri led a delegation of members of the House to attend the American Black Caucus Legislative week in 1993 where they had audience with President Bill Clinton and and leaders of the U.S. Congress.
Hon. Kadiri is a recipient of several awards including a Certificate of Merit by the Student Union Congress of the Obafemi Awolowo University Ile-Ife and being the zonal winner of the John F. Kennedy Memorial Essay contest.